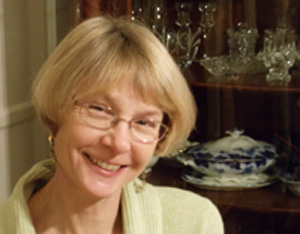 One of the great things about being a writer is that every time you start a new series or book you get to be�to live inside the heart of�a different person. Even in real life I get to be two people, Mary Claire Helldorfer, the name I was born with and use on my books for children, and Elizabeth Chandler, the pseudonym I use for YA novels. Friends call me Mary Claire or M.C., but I�m getting used to responding to Elizabeth, the name that fans of Kissed by an Angel and Dark Secrets use when contacting me.

Like many writers, I�ve earned a living doing various jobs. My happiest work has been teaching high school and college. But teaching is an all-consuming passion, just like writing; and often I have felt as if I couldn�t do both well, so I�ve tried other things. Have you ever wondered how some series authors can publish a pile of books so quickly? People like me ghost write under their names. Ever wonder who�s scripting those passages and sentences on school tests and exercises? Yup, that�s another way of paying bills if you�re good at words. I�ve also worked in the office world. Some jobs I�ve liked more than others, but the great thing about being a writer is that everything�even the worst job or most embarrassing moment of your life�is material. Are you a young writer wanting to meet characters who act in ways you�ve never even dreamed of? Try working, as I did, for a temp agency in New York City.
Every writer needs good teachers and I�ve had an abundance of them, many of them editors, others teaching at the schools I attended. Shout-outs go to the fierce nuns who graced my elementary school, St. Mary�s, to Ms. Walsh who taught me at Mercy High School, and to Philip McCaffrey who gave me so much encouragement at Loyola College, Baltimore. An interesting fact: over a two-year period I applied to ten graduate schools in creative writing and was rejected by all them. I bawled my eyes out and believed it was the end of the world. Then I got over it. As a result, an additional shout-out goes to the University of Rochester where I earned my Ph.D., determined to learn from �the dead guys� since I couldn�t make it in a seminar with the living ones. Thirty-six books later. . . .
If you�ve visited my website before now, you may have noticed that I allowed twelve years to elapse before updating it and just as long to post an official Facebook page. There�s a reason: I�d much rather spend precious time describing someone else, putting words in her mouth and letting her go through all the trauma of impossible love and murder. I�m just not as brave as my characters.
 So here are some undramatic facts to finish off this bio. I love sports, most especially my hometown Orioles and Ravens. I need to be outside, but it looks strange for someone my age to be climbing a jungle gym and swinging, so I dig in the garden a lot, and in the winter I shovel snowâ��other peopleâ��s when I run out of my own. My favorite authors are Jane Austen and P.D. James. My faith is extremely important to me. I am the lucky middle child with two amazing sisters. I take great joy in my nieces, nephews, and godchildren. Iâ��m living happily in a rowhouse at the edge of Baltimore with the love of my life, my husband Bob, and our two kitties, Scooter and Birdie.